Crystal Repair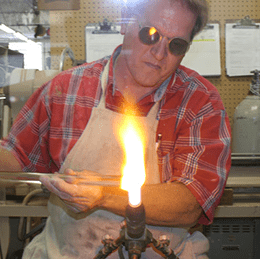 Bruening Glass Works specializes in crystal repair and glass restoration. We have helped all kinds of individuals and corporations restore their treasured collectibles. We have been endorsed by a number of crystal manufacturers and vendors globally.
We've been repairing glasswork and precious crystal for over 100 years! See our restored glass and crystal pieces gallery for a sample of before and after pieces. We give you instructions on how you can easily ship your damaged item to us so we can repair it.
About Bruening Glass Works
Marc Konys, owner and operator of Bruening Glass Works is a master craftsman, artisan and award winning glass designer. He has created a state of the art workshop that has restored priceless pieces of art glass, tiffany lamps, stained glass and family heirlooms. You can see more of our restoration work in our glass and crystal restoration gallery.
While we have certainly garnered a reputation for our masterful repairs of priceless works, we still maintain the same friendly and community oriented atmosphere on which the company was founded. We recognize that the crystal stemware you received on your wedding day or the vase passed on to you from someone special is treasured, and we are pleased to return those pieces to you fully restored and repaired.
Shipping Instructions
It is best to call us at 800.648.3050 before sending crystal for repair. We would be happy to discuss the repair and estimate with you, as well as proper shipping techniques. For especially large or expensive pieces please call ahead.