crystal repair cut glass clown restoration
August 2nd, 2010 Posted in
All Repair Projects
,
Figurine
,
glass sculpture repair
Sent to me from New York, the crystal clown needed to be reassembled .   The glass figurine needed a lot of work.  It was a present with a lot of sentimental value.   It is very important to clean off the old adhesive.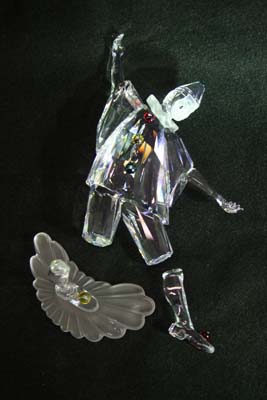 I will send it back to NY,NY after the crystal repair is complete.  The  clown and memories in tacked this beautiful keep sake will go back on display.
Tags: Antique Crystal repair, Antique Glass Repair, Broken Glass Glued, crystal figurine repair, Crystal Repair, Crystal Restoration, Glueing Glass